Friday, July 29, 2011
Click product titles for links to site.
So my first semester back in school in a decade ended this week and as a treat for myself I zoomed off to Orlando for my version of a treat- an extended time in the dressing room of Anthropologie without kiddo interruptions ;) Reviews follow, but first, I wanted to mention a review that will NOT unfortunately include a picture of me. That is of the
Ajisai dress
by Saira - a beautiful little dress that features rather prominently in the new catalog that was just released today.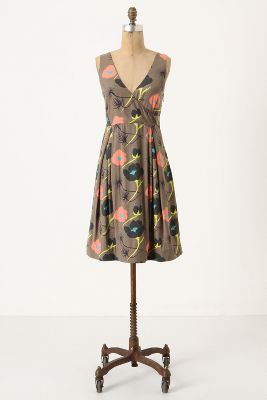 find the new catalog
here
: (and see how many times you can spot this dress, I'm pretty sure I counted three times)
I searched the racks for my normal size 12 and came up with a 10 and a 14. I debated not trying this dress on at all, and then grabbed the 10. It almost zipped up. It might have even zipped if I had help and wasn't contorting myself to try to zip it- however, that might have threatened the dresses integrity, and honestly, it's too pretty for me to want to threaten it (Stand back or the dress gets it! Sorry, wrong review). My lovely SA scoured the store for me and came back 10 minutes later admitting that my location had *every* size except a 12- and two 0s in the back room. Do I know if the 12 will be perfect? No. Do I dream that it will be? Heck yeah. But then, I am a dreamer. And the colors are pretty, the dress is swishy, the bodice part is dramatic and sexy, and the print appeals to the new found design side of my brain in a way I didn't expect. I really like it. Top of my wishlist like it. Oh- and the colors are a little different than the product shot- you'll see it in the background of a couple of my later shots, but it's a mossy greeny brownish base with coral and turquoise pops of color (um, there is so much turquoise and coral in my closet it's sort of crazy, this dress would feel like it was among family) and the stems are sort of a lime greeen-ish. BTW- I promise the rest of my reviews won't be a book like this one ;)
On to products I actually have pictures of ME in. Here's a little top that I had high hopes for because honestly, the design appealed to me online- dolman sleeves, strangely appealing star shaped seams, nice colors, a striped design. Covered a lot of my favorite bases. BUT, I had some major issues with fit and body in it.
The striped version worked better for me than the solid- so there may be fit differences between colors. The orange....oh boy, did it have issues. First, the diagonal seam llllooooved my bra and wanted to hug it in such a way that I had to keep convincing it that the seam should be on top, not the bra. Then, there were significant issues around the tummy area. This top pretty much doesn't camoflauge a darn bit of fat and I'm pretty sure invents some additional pooch. The striped one had the advantage of at least confusing the eye a little bit. They also sort of flattened bust area a bit. Overall, not a look I was going for, although my husband looked at the pictures and sort of liked them. I'm starting to think he's an easy sell. *shrug* They are a decent weight- and a soft knit, so there is that- and on the right body type, I think this would be rocking- they just made my hourglass look sort of uuummm.... straightish. (yay for technical speak!)
Dots within Blouse
I have a soft spot for bow blouses, like a lot of women. I apologize in advance for the bows I have tied on the two blouses in these reviews- I was having a bit of fun and they are in rather silly looking bows as I saw once I looked over the photos :) This blouse is by SARIAH- the same designer that did the dress that I um, essayed about earlier. I'm really liking the new collaboration with this designer- love her prints. This blouse will be a beautiful one when the weather cools down. Sleeves are long enough for me- which as I noted when I looked at the online reviews already existing for this top, means they will be too long for many people. Sleeves are usually too short on me ;) Length seems okay for tucking into slacks and skirts- tough for me to tell when I wore low rise jeans- but since it came well past my belt, that seems like a good sign. Nice and flowy in tts. Nice fabric quality. Pullover. Won't be wearable for me for about 4-5 months, lol.
Lemon Liftoff Blouse
This may not be immediately obvious from the pictures, but this blouse is definitely too tight on me in my tts- I needed a size up but my store did not have it. Here is what you may not be able to immediately tell- My bust is being severely restricted, the waistband was constantly moving up because it was too small, the flare did a lovely little bump thing that looked like a muffin top but wasn't (was just not flowing because it was too small- ok, that you can sort of see in the last picture...it's the blouse, I SWEAR!). All these things said, I love this top. The puff sleeves aren't too puffy for me- I tend to wear a fair amount of puff sleeves actually (for some reason they work well on my arms). It has a bow! The silhouette is a nice one for my body type- helps define that waist that I do have, and the bust that sometimes allows the waist to get lost (the biggest problem that flowy garments cause for hourglass body types) The material is a bit sheer due to the color- it is a bright, light lemon yellow. Love the owls. Length seemed perfect for just about any way I'd want to wear it. Price....price is higher than I want- but I'm just not sure if 14s are going to last till sale so I'll be stalking online stock on this one, because I can see it being pretty versatile.
Paint the Sky Tee
This was one of those funny try it on things where I tried something on to verify it would fit when I knew it was going to arrive in the mail in a day or two.... Sometimes I just don't know when my next trip to Anthropologie is going to be or if my store is going to have things in stock, lol. But yeah, this shirt fit so I know when my order comes I'll be happy with my purchase ;) TTS, soft knit, somewhat sheer, nice details to bring this tee beyond the "normal" tee. White and two pretty colors. Not much else to say except, the back view of the top is so much nicer than I knew!
Noon & Night Dress
I had high hopes for this dress after catching the stunning catalog shot--- it's rather unassuming in person. But, I ran into some of my rather common fit problems with it unfortunately. As you can see, it falls quite a bit above my knee. Because of the angle of my pictures, it actually looks LONGER in this picture than it was on me- It was at least 6 inches above my knee. Another issue was the fact that in this picture the bodice isn't actually all the way zipped up because I can't zip back zip dresses by myself- if I had been able to, I'm not sure if I would have had a bust at all.... because the dress was already flattening me quite a bit. I would have sized up for both of these issues if it was possible because the knit is so neat, and the color is stunning, but this is a low range dress with no XL. Oh well, a miss for me- but it will be stunning on many a girl out there for sure.
that's the last Anthro pic from this visit- Hubby said something about going tomorrow as a family (I think we do this after every time I go by myself and come home with pictures....very interesting)...not sure if that will mean a few stragglers of photos. Here's two random bonus tts H&M pics too ;)
If anyone happens to spot that skirt in a size 12 and wants to hook me up......let me know. I'm actually trying on a 10 in the picture- and the hook and eye at the top isn't fastened. The 12 would be perfect and it's a darling pleated skirt with polka dots..... so I was smitten. *but the next closest H&M is 2 hours away*
Tuesday, July 26, 2011
hhhmmm...my final project is turned in, and I have two and a half weeks off. You know what that means? Well, I know what it means to me, at least so far- it means my brain is popping with projects on the computer and off, I've been obsessed with cleaning and organizing my computer and craft room, and I am trying to figure out when will be the BEST time to head to Anthropologie for another fitting room marathon ;) I wanted to stay close to home today because A- the cleaning and organizing was calling me and that happens about once a decade so I figured I should listen to the call and B-kiddo went back to camp after a few days being sick with a cold so I wanted to be close to home in case I needed to pick her up and put her back on the couch. So sometime later this week I'm thinking, yay!