I took a break from working on my Illustrator and Photoshop projects yesterday and went into Orlando to try on shoes and Anthropologie clothes. best plan ever! except for the torrential rain.....but that's FL.
Lot's of stuff I loved- and I even remembered to take pictures of some of it :ashamed I really wish I had snapped a pic of the orange colorway of the Around the Maypole dress- I was waiting for the SA to look for a size down for me and apparently I didn't even contemplate her not being able to find it and didn't take a pic of the size 12. It was stunning but one size down would have been a bit more secure and better I'm certain due to the elastic back. Anyway, on to those I have pictures of.
First sale items:
Crimp & Cross Buttondown by Odille: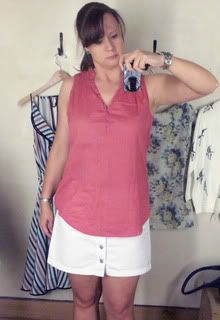 pretty basic sleeveless button blouse with smocking at front shoulders- slightly itchy fabric, on the sheer side. Wide in the tummy area- I felt it needed to be tucked in or belted to give it some definition- did nothing special for me.
Squeezebox top by Deletta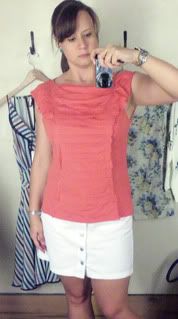 First time I've tried it I think- I sized up after a disasterous try of my regular size (It made me literally lol-it was bad....made me very Jessica Rabbit-ish and lumpy all at the same time). Once I sized up I loved it.
Gullwing dress- Girls from Savoy multi stripe.
This one was missing the topmost button- so a previous shopper filled out the top in a similar way that I did :o I don't know if I could have kept that button buttoned up anyway once I tightened up the straps in the back. Loved the fit on this- loved the flow, loved the dress. I have a feeling I would love it even more in the polka dot which my store was out of, but which is still available online.... hhhmmmmmmm.
Non sale goodies :)
Talauma Tunic- by Sparrow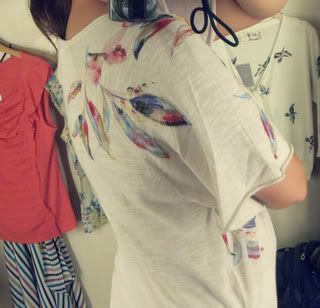 Loved this sweater! Lightweight, somewhat sheer, but that wasn't a dealbreaker for me. Was big on me- would size down if I was going to purchase/when it goes on sale/if it makes it to sale. The colors are so much prettier irl than online. I tried to capture that with my pictures. It's an oatmeal-ish color. The accents are simply so gorgeously soft and feminine- the colors are fantastic.
Swoop&Glide pullover by Field Flower
(I think?)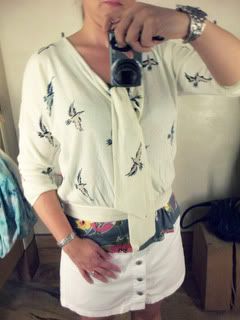 I saw the birds on this and I think I actually made grabby hands. Literally. I have so little control. The knit is supersoft. The design is super confusing. It's actually a cardigan- under the tie is a row of tiny buttons all the way down. I sized down for these pictures- so it's cropped and boxy. From looking at the pictures, I could deal with the fit, but I was fussing with it quite a bit- I'm getting very tired of cropped sweaters. I'm long torso-ed so some sweaters that aren't meant to be cropped end up cropped anyway, so yeah, add the intentionally cropped ones in there, and ugh. I also would have preferred it either without the tie or without the buttons- the design just seemed muddled to me.
Wavering Grid Dress by Deletta
While I was shopping, the SA that was helping me (and unfortunately calling me Jenny) saw me checking out this last dress. She grabbed my size and had it off to the dressing room before I could fish my size out, lol. It apparently came in just a couple days before. It has some unexepectedly vintage details for what is basically a knit jersey dress. The neckline has ruched darts at the side, the silhouette almost screams for kitten heels and/or seamed stockings.... dunno, it just looks like Mad Men era to me. The print was a little straining on the eye and was a definite optical illusion sort of print- and unfortunately, it seems to be where the name came from, so I'm not sure this will come out in another print.....but I hope it does, because I loved the fit, but the print didn't have me completely sold. (tbh it reminded me too much of the homework I had gone shopping to leave behind! eek, gotta get a new pattern Anthro!)